KUNDALINI YOGA
What to Expect in Your First Class
 What to Expect in a Kundalini Yoga Class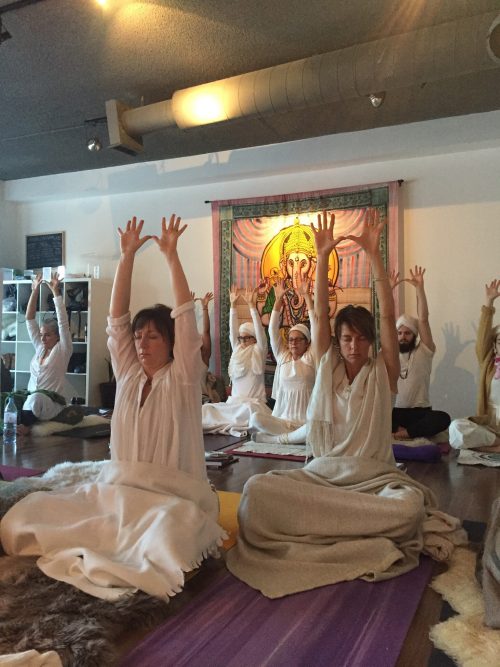 Kundalini Yoga has been developed over centuries in India and can be traced back to the sutras of Patanjali. Practitioners of Kundalini Yoga believe it to be the most comprehensive form of yoga because of it merges the elements of physical asanas or postures with pranayams or breathing exercises and the use of the sound current through mantra also known as Naad yoga.
Kundalini Yoga as taught by Yogi Bhajan® is probably the most formalized style of yoga currently taught throughout the world. In any class, anywhere in the world, you can expect it to include six major components:
1) Tuning In 
Kundalini Yoga Classes always begin with an opening mantra to tune in mentally and physically to the practice you are about to begin.  The entire class will chant the Adi Mantra -Ong Namo Guru Dev Namo. Yogi Bhajan taught this is ancient yogic mantra as a tool to relate instantly to the divine teacher within.  It is used to tune in before Kundalni Yoga classes to center us in the higher self, and to spiritually guide both the teacher and the students during the class.
2) Pranayam or Warm-up
Kundalini Yoga employs a wide range of pranayam, using the breath to effect and manage different states of consciousness, relaxation, and well-being.
3) Kriya
A Kriya is an exact, dynamic combination of postures, breathing and sound – a complete system that balances body, mind and soul and increases mental clarity and physical vitality.
4) Relaxation
Deep Relaxation (Savasana) is often called the most important pose in yoga. All of yoga practice, in every form from Iyengar to Kundalini, intelligently informs the body of neuromuscular changes. That is to say, the practice of yoga fundamentally changes the structure of who we are. Savasana, allows the body to rest in order to integrate and accept these changes prior to entering the fray of normal life.
5) Meditation
Meditation in Kundalini Yoga contains specific, practical tools that carefully and precisely support the mind and guide the body through the use of breath, mantra, mudra and focus. The range and variety of meditation techniques in the Kundalini Yoga tradition is truly extraordinary.
6) Closing
It is customary to close every Kundalini Yoga practice by chanting The Long Time Sun Blessing along with three repetitions of Sat Nam.
Preparing For Class
Plan to be well hydrated prior to class. The ideal time to eat a meal would be approximately two to three hours before you plan to begin a session. If the consumption of food is absolutely crucial after that, eating something light, such as a piece of fruit, would be acceptable.
Kundalini Yoga Clothes
You should wear simple, loose, comfortable clothing. This clothing should be made of a natural fiber such as cotton. You do not wear shoes in a Kundalini class. It is believed that the act of being barefoot will help to stimulate the nerve endings on the bottom of the feet. It is recommended that you wear white to help expand your radiance, but it is not required for class. It is also recommended that you cover your head to protect your crown chakra, but again is not required.
FREQUENTLY ASKED QUESTIONS
Q – I am new to Kundalini Yoga, is there a beginners class?
A  – All of our classes are suitable for beginners, you are welcome to join us anytime

Q  – Do I have to wear white?
A –  Wearing is not required, come dressed in comfortable clothes that you can easily move in.
Q – I am having a Kundalini Experience, will coming to class help me?
A – The best way to manage the flow of energy is to practice regularly, join us anytime!
Q – I've heard Kundalini Yoga is mostly meditation, is there movement too?
A – Kundalini Yoga is a balanced style of yoga, incorporating postures, chanting, breath work and meditation.
Q – I would like to purchase a class pass but I am going on holidays, can you extend the expiry date?
A – We are not able to provide extensions or holds on passes. We suggest purchasing a drop in pass which are valid for one year.
Q –  If I'm running late can I still some to class?
A – Our studio door is locked promptly at the start of class. We do not allow late arrivals as it is distracting to the teacher and the students who have arrived on time.
Q – Do I need to bring a yoga mat?
A – We have yoga mats, meditation cushions, bolsters and blocks available for everyone's use.
Q – Where should I park?
A – There is an Impark lot directly in front of the studio which is monitored 24/7. There are two lots on either side of Western Canada High school, pay meters along 17th avenue and free 2 hour parking on the side residential streets.
STUDIO POLICIES AND ETIQUETTE
Studio Sat Nam is committed to providing a comfortable and safe environment for everyone that practices with us.
Please assist us in maintaining our sacred space by reading and abiding by our polices and etiquette. Thank you and Sat Nam.
Arriving at Studio Sat Nam

We recommend arriving 15 minutes prior to class. Once we meet capacity, no further accommodations can be made. Doors to the studio will be locked promptly at the start of each class.
Shoes & Personal Belongings 

Please remove your shoes upon entering the studio. There are shelves located at the entrance to store your shoes and personal belongings. Please do not bring jackets and bags into the studio space.
Passes
All passes must be purchased before class begins. Methods of payment include Cash, Debit, Visa and Mastercard.
All single Yoga Classes, Pass Cards, Unlimited Passes and Special Offers are non refundable.
Peacefulness

Many people enjoy the silence in the space before class begins, please respect the quiet time of your fellow yogis.
Beverages and Food

Aside from your water bottle, kindly refrain from bringing any food and/or beverages into the studio.
Cell Phones

Please ensure your cell phone is turned off  (please also disable vibrate) when you are in the studio.
Scent Sensitivity 

Please be mindful of personal hygiene and scented products when attending class.
Dress Code

Our dress code is very simple, please be modest. Men, kindly note that shirts are always required.
Yoga Props
Everyone is welcome to use our props for practice. Kindly ensure you return props to where you found them and clean your mat with the cleaning supplies provide
Sat Nam! We look forward to seeing you soon.